Krabi Thailand – A Paradise Beach Resort Destination
When a travel magazine wants to catch your attention and entice you to an idyllic holiday destination, they bedazzle you with an image on the front page of places like Krabi in Thailand. I have visited Thailand many times and traveled from Chiang Mai in the north, Phuket in the south to Koh Samui in the Gulf of Thailand, but no other location in the land of smiles ignites a desire to return again and again quite like Krabi and the reasons are obvious.
Krabi is located on Thailand's south coast, a mere 2 hour drive from famous Phuket and 2 hours by air from Bangkok. The entire region is a tropical paradise of exotic wonder and never fails to charm visitors with its beautiful nature scenery, unsurpassed world class beaches, friendly people, exiting activities, sightseeing opportunities and outstanding hotels and beach resorts.
Beaches
In a country which is renowned for its miles of exotic beaches dotted with palm trees, Krabi is the area which takes the cake. If you want to share paradise with as few others as possible, primary beaches like Ao Thalane, Khlong Muang and Nopparat Thara in the north offers quiet seclusion and untouched surrounding nature which is perfect for a romantic getaway.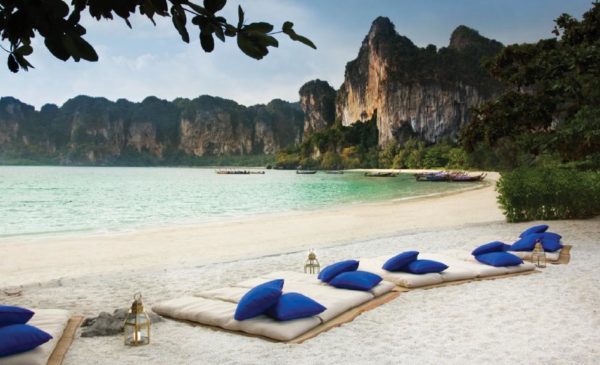 More to the south and close to the region's capital, Krabi Town, are Krabi's two biggest jewels namely Aonang and Railay beaches, both boasting world class status. Krabi is on the mainland, but Railay beach can only be reached by a 10 minute ride in a traditional Long-tail boat. Boats dock on the western side of this beach which is mainly mangrove, offers a cave to explore and also a restaurant or two. But walking to the eastern side you pass by the most amazing lime stone walls and cave-like over-hangs until Railay East reveals itself in all its glorious splendour. The sweeping beach is pure white and just across the emerald water of the ocean lime stone rocks rise majestically. You can grab a kayak and go explore these at your own time and leisure.
Beach Resort
Just around the corner from Railay, Aonang beach draws the larger crowds as this is the area's main entertainment strip. It features many beach side restaurants, bars, shopping opportunity, Thailand's famous spa and massage services and also moderate nightlife. The atmosphere here is exiting and loads of sightseeing trips and exiting activities are on offer by tour operarors all along the beach. The beach itself is spectacular and though it is more lively, this long stretch of sand also offer much quieter parts with captivating scenery.
Hotels and Beach Resorts
Located amid this beguiling scenery, hotels and beach resorts caters to every budget. Especially in Ao Nang, those of us with a modest budget to consider will find affordable luxury on the beach at 4 star venues like Aonang Villa Resort and enjoy the same spectacular scenery as luxury travelers. However, if you are a 5 star holiday traveler, Krabi's accommodation options has a real treat for you. In Railay Beach, Rayavadee Resort is located directly on the powdery sand and offers the most luxurious and charming private pool villas imaginable. The entire resort is designed like an eastern Thai village and is also a great option for a family holiday. If you like sophistication, check out the Phulay Bay Resort located in a much quieter and exclusive area. The views from resorts like Nakamanda and Centara Grand Beach resort will leave you with lasting memories. To make sure you get the most for your Penny, check our smaller local businesses like www.hotelsphuket.travel which often offers the best deals.
Things to Do and See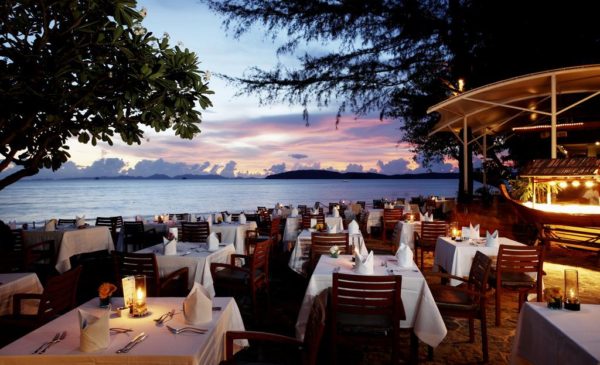 One of the best things about Krabi is the list of things to do and see, most of which comes courtesy of mother nature. Just off the area's shores a multitude of islands lay scattered, waiting to be discovered. These include names like the iconic Phi Phi islands featuring world famous Maya Bay and Koh Phanyi which is entirely built over the water on stilts against a giant rock face. One thing no tourist should miss is kayaking through the famous Hong islands which are cave systems of which the roofs have collapsed over millennia. The signature lime stone rocks which define the area's landscape makes it a great destination for rock climbing which has become very popular in the area. The lush forest parks showcase amazing scenery including waterfalls and wild life during a hike and doing a boat cruise through mysterious Phang Nga Bay featuring even more islands and lime stone boulders is unforgettable. Of course scuba diving is also on top of the list with the surface of the water around Krabi's shores being a doorway to a colourful marine world of fish and coral.
In summary, Krabi is an all encompassing destination which include all the elements for an unforgettable holiday in the most amazing surroundings, friendly people, warm blue ocean, exiting things to do and accommodation suited for all requirements. Traveling to the south of Thailand and not visiting this enchanting region will be depriving one self of experiencing Thailand's most scenic wonder.