Best DSLR Camera Under INR 30000
Nikon D5200 DSLR Camera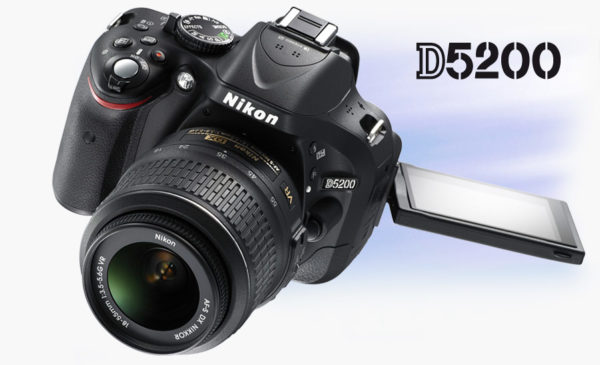 Taking a picture or shooting a video is not just about saving a series of memories, you also put in a lot of your own creativity to bring the moment alive in an artificial medium which by itself is no easy task. The D5200 by Nikon is a great DSLR camera with exceptional handling and exciting new perspectives depending on the kind of lens you pair it with.
Sensor Technology
This camera is equipped with a fairly large, powerful 24.1 MP DX-format CMOS sensor that can take stunning pictures across a wide range of lighting conditions. The sensor is designed to reproduce images with stunning quality and it can also be used for high sensitivity images that require a range of ISO settings. The EXPEED 3 image processing engine works well with the intelligent scene recognition system that can automatically set the right values for a perfect shot.
Continuous Shooting
With the Nikon D5200 you can also engage in continuous shooting with a 5 FPS framerate. This allows you to take actions shots in sequence without having to miss a single moment. This is highly useful in sports as you get to shoot before, during and after a designated moment which then provides you with a host of photos that can choose from to pick out the winning shot.

ISO Sensitivity
You can choose between 100-6400 ISO settings, which is also expandable to 25600 ISO if the need arises. For most shots however, you can easily manage in the lower ISO settings as the higher settings will only be in play if you need to take pictures of dimly lit subjects.
Display Technology
This camera is equipped with a Vari-Angle LCD display that can be used to view the subjects along almost any angle before taking the picture. This is highly useful for trick photography when you need to get a certain angle captured which may not be possible with a fixed angle display. You also have an optional WU-1a Wireless Adapter. You can also take videos in Full HD, at 1080 p resolution.
Remote Control
With the optional Remote control system, you can set your camera for the perfect shot and safely fire the remote to engage the shutter release so that you do not contribute to vibrations that may ruin an image capture. This is especially useful in very low light photography or when capturing the night sky with a large exposure level.
Canon EOS 1300D DSLR Camera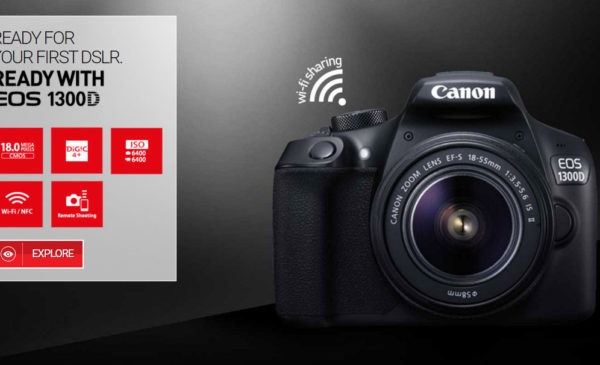 Product Description
Capture beautiful pictures with the Canon EOS 1300D camera and share them instantly on Facebook. This camera comes with two lenses – EF-S 18-55 mm IS II and EF-S 55-250 mm F4 5.6 IS.
18.0 Megapixel CMOS (APS-C) Sensor
Capture a group picture with this camera, enlarge it and frame it on your wall. The 18 MP CMOS sensor gives sharp results with pictures even when enlarged. This sensor is APS-C size so it gives a wide field of view (1.6 times the field of view of the 35 mm format).
DIGIC 4+ Image Processor
Enjoy a fast, responsive shooting experience with the DIGIC 4+ image processor. This processor improves image quality even in low light conditions and reduces noise.
Image Sensitivity
Capture even fine details with this camera; it has a wide range of sensitivity ratings from ISO 100 to 6400 (expandable to H: 12800). You can capture clear pictures even in dim light conditions.
Built-in Wi-Fi® Technology
Upload photos on Instagram or email pictures to your family, thanks to this camera's built-in Wi-Fi. You can also connect this camera to your smart devices with Canon's free Camera Connect app.

Built-in NFC Technology
With built-in NFC technology, you just have to tap this camera to your smartphone to transfer photos and videos. You can also use NFC to transfer files to Canon Connect Station CS100 storage device. Connect Station helps organize and store all your memories at one place.
Remote Shooting
To get that perfect group picture, you can use this camera's Remote Shooting feature that helps control the camera from a distance. To start off with Remote Shooting, use the Camera Connect app and connect to a compatible device.
Autofocus
Now you won't miss out on the best shots as this camera features fast and accurate autofocus. This camera uses normal and high-precision focus depending on the aperture and available light to capture clear pictures. The Al Servo AF system maintains consistent focus.
Viewfinder
Capture the highlights of a mid-day match with this camera. This camera's Optical Viewfinder captures clear pictures of fast moving sports without blurring.
Display
View pictures in 920,000-dot resolution in this camera's 7.62 cm (3) LCD monitor that has a viewing angle of 170 degrees. On the screen, you can view camera settings like AF, ISO, metering, AF point selection and check out different flash options.
Scene Intelligent Auto Mode
The Scene Intelligent Auto Mode brings out the beauty of any picture by adjusting the exposure, optimising light, and white balance. The automatic feature analyses the image and improves its quality by adjusting different settings automatically.
Feature Guide
This camera has a Feature Guide that gives a simple description to explain each feature. The description is displayed in each shooting mode and as and when a function is selected. You can also disable the feature guide.
Live View
Click on the Live View button to capture Full HD videos in a variety of recording sizes and frame rates. This camera comes with a host of features for in-camera editing. Choose from about 60 compatible lenses to spice up your videos.
Performance
Capture up to 3 frames of fast-moving sports scenes per second. This camera starts up instantly and has a speedy Autofocus so you can capture pictures without any lag.
Features
With the Food mode, you can click colourful pictures of the food you order and upload them on Facebook. Access various features of Basic+ with the Quick Control Screen and easily change picture settings.
Nikon D3300 DSLR Camera D-ZOOM KIT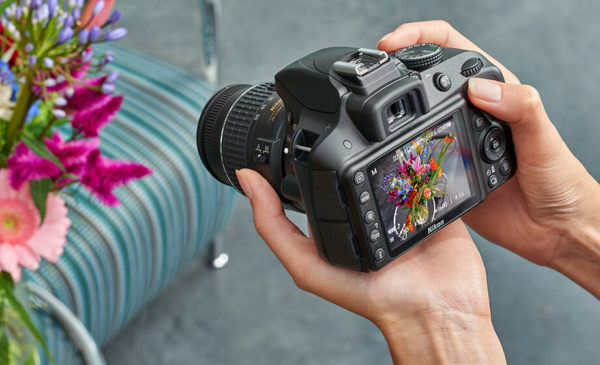 The Nikon D3300 delivers exceptional pictures with its 24.2 megapixels, EXPEED 4 processing engine, and a variety of other features and functions.
Design
The Nikon D3300 comes in a lightweight and compact body. Designed for travel, this Nikon camera is totally portable. The camera weighs approximately 460 grams with battery and memory card.
Image & Video Quality
The Nikon D3300 comes with a 24.2 megapixels CMOS sensor for taking stunning pictures. The Picture Control feature for easy controlling of image characteristics. This Nikon camera is also capable of shooting full HD videos at 1080p/60p and has a wide selection of video special effects to enhance the videos you shoot.
Performance
The Nikon D3300 comes with the Expeed 4 image processing engine for exceptional quality results. It is capable of clicking 5 frames per second for capturing those fleeting moments. With 13 special effects and retouch menu options, the camera offers a wide variety of in-camera editing options.

Display
The Nikon D3300 sports a 3-inch TFT LCD with VGA resolution. It comes with 170 degrees viewing angle and 100% frame coverage. Also, this Nikon DSLR is equipped with an eye-level pentamirror single-lens reflex viewfinder.

Exposure Control
The Nikon D3300 has ISO sensitivity ranging from 100 to 12800 which improves your camera's ability to shoot at low lighting conditions with ease. Also, the camera is equipped with Nikon's Scene Recognition System that helps you get amazing pictures.
Canon EOS 1200D DSLR Camera

The Canon EOS 1200D is the perfect DSLR camera for novice photographers. It is an entry-level model that is designed to help those who are interested in photography get an idea of what a DSLR camera can do. With 18 Megapixels and a CMOS sensor, you are guaranteed great pictures even in low lit areas.

Scene Intelligent Auto
Once you select the Scene Intelligent Auto mode using the mode dial, the camera will automatically adjust itself to get the optimal settings for the photo. This mode can recognize the scene to be shot using various factors such as color, brightness, distance and contrast.
Creative Filters
Creating the mood of the photo is important for any photographer. You can now adjust the visual effect of your photo using the camera's five creative filters. These include Grainy Black, Toy Camera, Miniature Effect, Soft Focus and Fish-eye effect.
Wide ISO Range
The Camera has a wide ISO range of 100-6400, which can also be expanded to 12800. This wide coverage from low to high sensitivity allows you to choose the expected result without having to worry about whether the scene is too bright or dark, making it easier for beginners to take high resolution and blurry-free images.
Lens & Image Sensor
The Canon EOS 1200D is a digital, single-lens reflex, AF/AE camera with a built-in flash. The CMOS image sensor is about 22.3×14.9mm in size. The camera can take pictures up to 18 megapixels with an aspect ratio of 3:2. there is a dust delete feature that clears the image from any unwarranted particles.
Functions
The Canon EOS 1200D has many features that adds more value to your photo. You can record your favorite moments in Full HD at 30 frames per second and play it back using the camera's HDMI port (type C) on your television or desktop monitor.
Storage
The camera has a memory card slot that can read SD, SDHC and SDXC memory cards. Although the camera does not have a WiFi feature, it uses the Eye-Fi technology present in the SD, SDHC and SDXC memory cards.
Battery
The Canon EOS 1200D uses a single LP-E10 rechargeable Li-Ion Battery which gives the camera a long battery life.